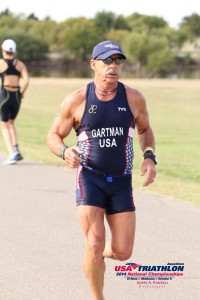 I have been in Triathlon for 34yrs ('85-2018) and have completed and competed in close to 300 Triathlon/Duathlon's in that period of time.
I am a 2007 Hawaii Ironman World Championship finisher.
I am also a Triathlon Coach.
In previous years, as an elected board member, I formed some of the current races. First was the Fall Class ('03) & the March In Okarche Duathlon began in 2004 and they are still on the race calendar. I was a strong supporter for Buzz with the start of the Rt. 66 Triathlon (El Reno, OK) in 2005. That same year I was the first Race Director for the Redman Triathlon. A race that is no longer available was the state's first F-1 Duathlon; the Lazy E Formula 1 Duathlon (Guthrie, OK).
This year I will be race directing the 2017 Guthrie Super Sprint Duathlon, the newly designed RnR F-1 Duathlon.
My primary endeavor is to promote the Youth Athlete!
This is a passion that I have been pursuing since '15 and have directed several Youth Splash & Dash events and a Youth Triathlon '15 – '16 – '17.
Feel free to email me: roger@triyouthracing.com