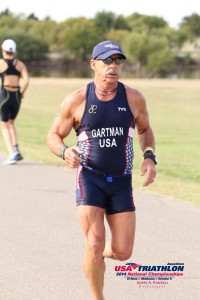 I have been in Triathlon for 35yrs ('85-2019) and have completed and competed in close to 300 Triathlon/Duathlon's in that period of time.
I am a 2007 Hawaii Ironman World Championship finisher.
'07 Hawaii Ironman World Championship finish
I am a Triathlon Coach, Race Director and a Race Timer with all my own timing equipment.
My primary endeavor is to promote the Youth Athlete!
This is a passion that I have been pursuing since '15 and have directed several Youth Splash & Dash events and a Youth Triathlon '15 – '16 – '17. This year (2019) I am starting two new Youth Triathlons. My plan is to add at least one new Youth Triathlon every year in different towns throughout Oklahoma.
Feel free to email me: roger@triyouthracing.com